Stark Contrast – Scratch Art by Rick Siegel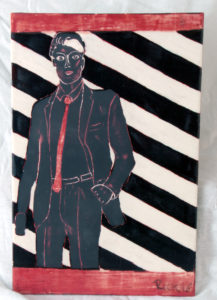 Stark Contrast makes a fine example of Scratch Art. What is Scratch Art? It is the technique of taking a tile and putting a color layer on top of another color layer, as many as you like, then scratching, or rubbing the colors off to reveal the work of art.
Making the subject matter more graphic the idea was to be able to scratch off using only three colors and see if it could work with some blending. Then I applied a transparent enamel, but only on the background. I left the black, white and red of the figure to stay mat. The color layers were Spanish engobe.
Created 2017
Technique:
Scratch Art
Colors:
Size:
20cm x 30xm
8 in x 12 in
730 gram weight
NOT FRAMED!